Colored diamond engagement rings can be a fun and unconventional departure from the classic colorless diamonds. Even if you are a fan of traditional diamonds, colored stones can be paired with them to create a stunning effect. Best of all, there is a huge range of styles, sizes, cuts and metals to choose from for a ring that's simultaneously classy and totally you. Here are some of the many options available in colored diamond rings. Colored Diamond Engagement Rings in Platinum or White Gold Platinum is a good choice for any diamond ring because it's strong and less easily marred or tarnished than silver or gold. It's also one of the rarest metals, which means its use will add value to your ring. Platinum looks gorgeous when used in canary yellow diamond rings, as the contrasting colors offset one another nicely. If you like the softness and sheen of gold but like silvery shades better, consider white gold. This material is also extremely valuable and malleable, so rings can be made in a variety of styles and shapes. Canary yellow diamonds can be cut in baguette style, or you can select from princess cut diamond engagement rings and additional styles. The 2.75ct Canary Princess Cut Diamond Ring in 18k White Gold. It features a 1.10ct princess cut canary yellow diamond in the center, with smaller white princess cut diamonds graduating in size down the sides of the ring. This ring is available in sizes from 5 to 8, including half sizes.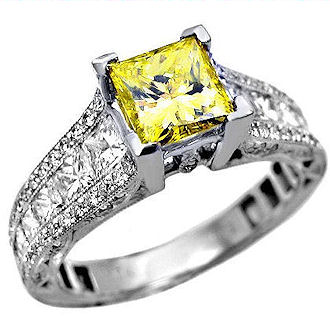 Colored Diamond Engagement Rings in Gold Of course, colored diamonds are available in gold, too. You can choose from 14k or 18k gold. Cuts include princess cut, baguette, marquise, and round diamond engagement rings. Yellow gold can look especially stunning with blue diamonds, as well as chocolate diamonds. Green diamonds look great with both shades of gold or platinum, although rose gold, if available, can be particularly beautiful when paired with green. The 1.71ct Canary Yellow Round Diamond Ring in 18k White Gold contains a substantial 1.01ct yellow diamond solitaire in a round cut, surrounded by .70ct's of resplendent round white diamonds. This ring is available in sizes from 4.5 to 8, including half sizes.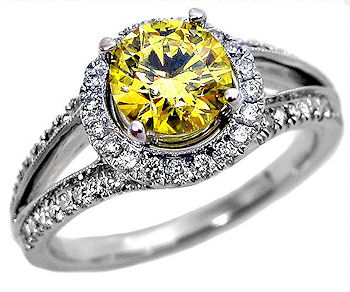 Colored Diamond Rings for Men There are also lots of beautiful—yet masculine—colored diamond bands available for men. Choose from canary yellow, blue and white diamonds in a range of white and yellow gold designs.